Light, Delicate and Savory-Sweet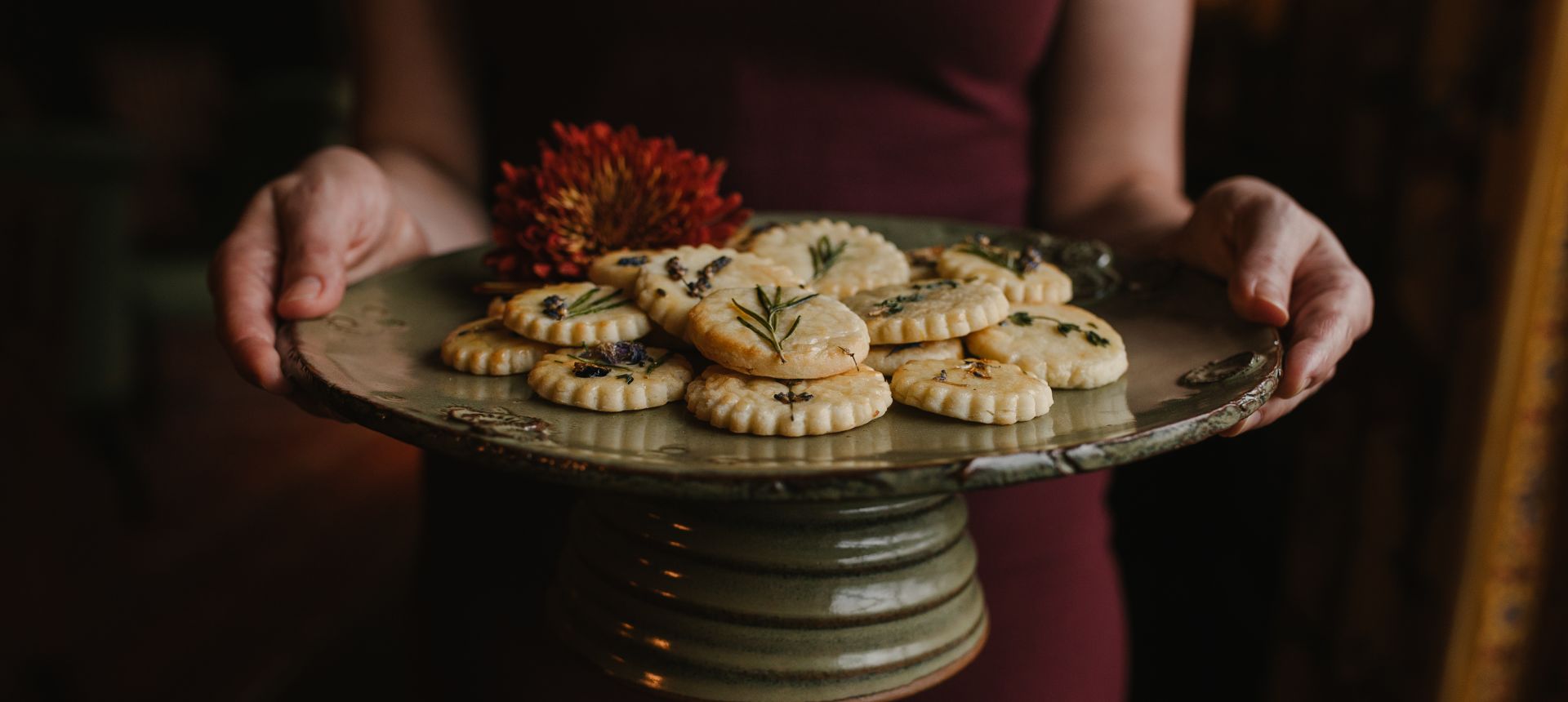 Key Ingredients: Love and Gratitude
---
Creating your own gifts not only gets you in the spirit; it also carries an implicit gift of love to the receiver. Old Edwards Pastry Chef Alyssa Green shares her recipe for beautiful and delicious herb-pressed sugar cookies perfect for cocktail or tea time. As you prepare this recipe, focus on pouring in love and gratitude for the recipient. Whether it's a hostess gift, dinner party favors or just a heartfelt exchange with someone special, the gift of a handcrafted recipe is a gift from the heart.
Lemon Cream Cheese Shortbread Cookies
Bake Time: 8-10 min
Makes: 24 2" Cookies
Ingredients
5 oz. Cream Cheese
4 oz. Butter
2 Lemons, zested
2.3 oz. Sugar
½ tsp. Salt
1 tsp. Vanilla Extract
6 ounces All-Purpose Flour
Assorted Edible Dried Flowers and/or Fresh Herbs
Preparation
With a paddle attachment cream the butter and sugar, then add the cream cheese, salt, vanilla extract and lemon zest mixing until light and fluffy.


Scrape down the mixer bowl.


Add all-purpose flour and mix until just combined.


Wrap in cling wrap and chill dough for at least an hour before rolling out.


Preheat conventional oven to 350F.


Once the dough is chilled roll the dough out to 1/4 " thickness and cut out to desired shapes.


Chill the cutout cookies for 10 minutes.


Egg wash cookies and place desired flowers/herbs on top. Chef Alyssa favors Sage, Rosemary, Thyme. (The egg wash is two well-beaten whole eggs with a splash of water plus a pinch each of salt and sugar. You then strain into a container and keep refrigerated for up to two days.)


Bake for 8-10 minutes, rotating tray halfway through baking.


Allow to cool.
See the recipe for Chef Alyssa's Ciabatta Bread.
You can Relax + Discover more ways to live well on Half-Mile Farm's new blog. Check it out today!