The Discovery Jar
Venture Out, Let Nature In
---
You don't have to have your own garden or live in a forest to connect with the earth in reciprocal ways. If you have any kind of green space—a yard, a tree, potted plants, a forest—you can embark on a new tradition of discovery that heightens your senses, calms your spirit and expands your heart. Kirk Moore of Oakleaf Flower and Garden in Highlands shares his own family tradition of The Discovery Jar.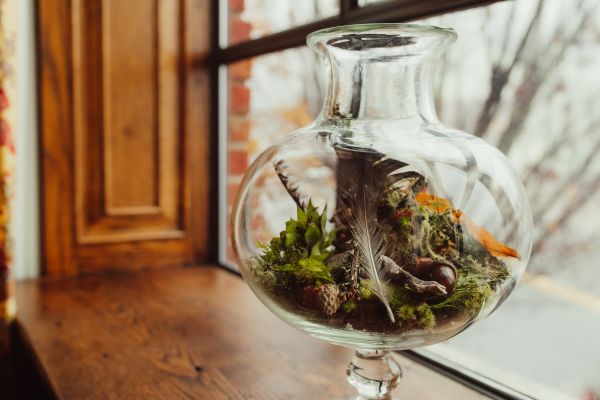 For decades now, each Thanksgiving afternoon, after a bountiful lunch, my entire family hiked around our farm west of Savannah, tracing the fields and pastures. Gathered from the hedgerows were abandoned nests, pods, dried berries, mossy twigs and feathers. Along creek beds we collected chunks of mica, arrowheads and smooth stones.
All these treasures returned home with us and were arranged in ironstone bowls and jars for us to remember that special day throughout the season. The pieces would find their way to the mantle or become a centerpiece for family dinners. The most interesting specimens would sometimes find a place on a bough of the giant cedar Christmas tree.
I've always thought that traditions are really just memories so special that after time they are woven into the fabric of family seasons. And memories are best when shared.
Pictured from Oakleaf:
Early 20th Century North Carolina Cherokee Gathering Basket | Antique Sheffield Parrot Beak Secateurs | Pewter Terrarium "Hand Widget" | Bespoke Oakleaf Iron Trowel | Leather-bound Field Book | 19th Century Blown Glass Fishbowl
You can Relax + Discover more ways to live well on Half-Mile Farm's new blog. Check it out today!