Press Room
Stay Informed, Browse Our Highlands, NC Inn Press Room
Half-Mile Farm, with its idyllic setting and uncompromising service, receives regular attention and accolades from bloggers and travel writers. Many of those posts and articles are listed here.
2020-04-06
Half-Mile Farm by Old Edwards Adds New Full-Service Bar
April 6, 2018 (Highlands, NC) Old Edwards Hospitality Group has completed the addition of a full-service bar to its luxury country inn Half-Mile Farm. The completion of the bar comes just...
2019-10-01
Southern Relaxation at Its Finest
October 2019, Paula Rallis
Southern Relaxation at Its Finest
2019-07-01
Taste 50 Awards
July 2019, Taste of the South
Taste 50 Awards
2019-06-01
Retreat to the Mountains
June 2019, B-Metro
Retreat to the Mountains
2019-05-01
Finding Home at Half-Mile Farm
May 2019, Good Grit Magazine
Finding Home at Half-Mile Farm
2019-04-01
The Best Adults-Only Hotels and Resorts in America
April 2019, PureWow
The Best Adults-Only Hotels and Resorts in America
2019-04-01
Our Stay at Half-Mile Farm
April 2019, Claire Guentz
Our Stay at Half-Mile Farm
2018-03-01
It's Not So Hot But Very Cool in Highlands
March 2018, Forbes Magazine
It's Not So Hot But Very Cool in Highlands
2017-10-01
Half-Mile Farm
October 2017, Southern Weddings Magazine
Half-Mile Farm
2017-06-01
Farm Charm
July 2017, 17th South Magazine
Farm Charm: https://issuu.com/17thsouthmagazine/docs/17s_04-17_issuu/20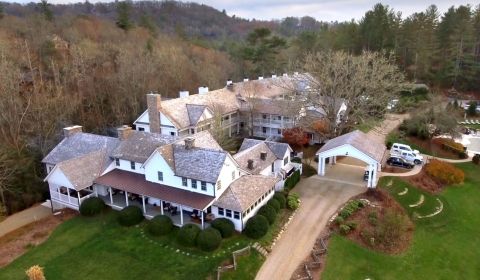 2016-09-01
Forbes: Rustic Mountain Escape
September 2016, Forbes: Rustic Mountain Escape
http://www.forbes.com/sites/forbestravelguide/2016/09/15/why-you-should-visit-this-rustic-north-carolina-farm-escape/#53e32a653112
2016-09-01
Nashville Magazine: Travel tips to Highlands NC
September 2016, Nashville Magazine: Travel tips to Highlands NC
http://www.nashvillelifestyles.com/entertainment/travel-tips-to-highlands-nc​
2016-06-01
Getaway for Grownups: Half Mile Farm
June 2016, Getaway for Grownups: Half Mile Farm
https://getawaysforgrownups.com/half-mile-farm/
2016-05-19
Welcome to Half Mile Farm
Log Home Tour, Welcome to Half Mile Farm
http://loghometour.com/2016/05/19/welcome-to-half-mile-farm---the-timeless-rustic-kitchen-is-not-to-be-missed/
2016-05-01
Half Mile Farm
May 2016, Half Mile Farm
http://mybeautifuladventures.com/2016/05/23/andis-pick-half-mile-farm/
2016-05-01
See the South: Highlands Charm
May 2016, See the South: Highlands Charm
http://www.seethesouth.com/half-mile-farm-highlands-charm/
2016-04-01
Hotel Intel
April 2016, Paste Magazine
Hotel Intel, https://www.pastemagazine.com/articles/2016/04/your-room-key-half-mile-farm.html
48 Hours in Highlands North Carolina
August 2019, Style Blueprint
48 Hours in Highlands North Carolina
Town Magazine: Cabin Fever
July 2016, Town Magazine: Cabin Fever
http://towncarolina.com/article/cabin-fever/
Vacation Idea: Half Mile Farm
June 2016, Vacation Idea: Half-Mile Farm
http://vacationidea.com/ideas/half-mile-farm.html